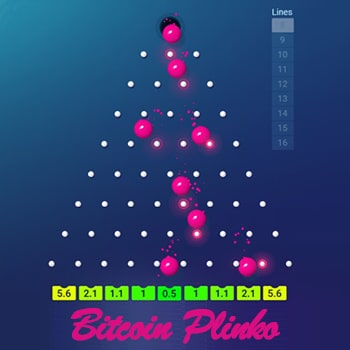 The Plinko game is renowned for its popularity among Americans, thanks to the show "Right Price". The modern substitute of the game, which is called Bitcoin Plinko, has the same idea with a few changes. The most important of these is rate management: you can set the risk value and the number of lines. The variety of lines is from 8 to 16, the risk rate could be: low, normal, and high.
Than more the risk of the game and the number of pins, then higher the maximum and lower the minimum winning odds. Your reward is determined by the winning odds, depending on where the ball landed. So to start a game you have to place a bet, select the risk of the game, the number of lines, and click "Play". Scroll down to learn more about the plinko bitcoin game.

How to play in bitcoin plinko
Bitcoin Plinko interface is as simple as the game itself. For example, let's take a slot that is available at BitStarz casino from the Bgaming software developer. We choose the particular example because it has a demo mode, which means that any of our readers can try to play Plinko for free and without sign up. To turn on the demo mode, you have to click on the button in the upper-right part of the screen (screenshot below). As you can see: the screen is split into left and right sides. On The left are the statistic of your game, your bets, and your winnings. On the right is the game itself. If you decide to play from a mobile phone, then the part with statistics won't be visible to you, therefore, for a start, we recommend using a PC or pad.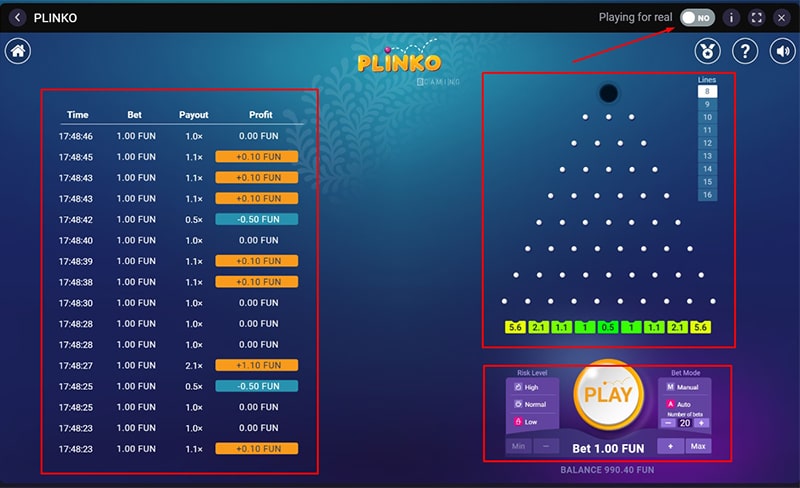 Slightly to the right of the Plinko "triangle", there is a scale for selecting the number of lines (from 8 to 16). Under "triangle" the main menu of the game. In this menu, you can select the level of risk, bet mode, and bet size. With the size of the bet, I think everything is clear and we have already talked about the scale of the risk level, so now we move to bet mode. There are two types of bet modes, manual and auto. Unlike other games, the auto mode doesn't activate automatic ball drop or auto bet, thanks to auto game mode you can set up the number of balls which will roll out. You can launch from 10 to 1000 balls at a time, they will jump out one after another. At first glance, all these settings seem like a trifle, but in fact, they are important for the right strategy.
TOP-3 casinos with bitcoin plinko

| Brand | Plinko raiting in a casino | Bonuses for plinco players |
| --- | --- | --- |
| bitStarz | | 250 Free spins Welcome Pack Up to with 30X Wagering |
| Stake casino | | Faucet bonus (10 Satoshi) |
| CloudBet | | 100% Deposit bonus | Welcome Pack Up to 5 BTC |
Bitcoin plinko strategy
In the original Plinko game, the final result was determined by physics and luck, but in online Bitcoin Plinko, victory or loss is determined by an algorithm and this difference opens interesting opportunities. Where there is an algorithm, there is a pattern, where there is a pattern, there is a strategy – it is simple.
So from the tools available to us, we can set:
the risk level;
the number of lines;
the number of balls.
Before we start, I want to say that I don't have a 100% correct strategy for winning, I just experienced a lot of different options and now I am sharing my observations with you. Let's see what comes out.
Bitcoin plinko winning strategy
After hundreds of attempts to "throw the ball" and observing the percentage of winnings, I came up with a couple of basic rules for wining:
First – always choose the minimum number of lines and the low risk. This may seem like a "boring rule" to you, but I think it's better to win slow than lose fast.
Second – more than 20 balls must be entered into the game at the time. I don't know why but it works.
| | |
| --- | --- |
| 🥇 Best Bitcoin plinko casino: | FortuneJack |
| 🔝 Top Bitcoin plinko casino: | Bitcoin.com |
| 🎁 Best Bitcoin plinko bonus: | Bitcoincasino.io |
| 🎮 Bitcoin plinko casino games: | Bitcoincasino-us |
Ok, now move from basic rules to game action features. A unique auto mod of this game allows us not only to launch a lot of balls at once but also to interrupt this queue. You can launch 20 balls and stop the queue at 9 (that is mean that only 11 will be launched).
Here we have to take a break and explain that winnings in Bitcoin Plinko, are determined according to the algorithm of the percentage return of the bet, which is measured as RTP, which varies in different machines from 70 to 97%. It is the same system as in bitcoin slots.
So when you are launching a lot of balls, you are able to see the profitability* of throws. And if you have launched 20 balls and you see that the first 10 were winning, then you need to interrupt the combination because the next ten will be busted. The numbers 20 and 10 I took as an example, they can be any others. It won't be easy to get the hang of it, but you can play in demo mode without spending your money, and after you will convince in your skills – switch to real bets.
Frequently Asked Questions about Bitcoin plinko
Yes, Bitcoin Plinko is the game of chance so anybody can win. To increase your chances, it is better to use a game strategy.
Unlike the original Bitcoin Plinko game, the player has a choice and space to maneuver. (more detail
here
)
Yes, this is one of the varieties of online Plinko.
As it was said above bitcoin plinco game is very popular in the USA. Also, plinko gambling is well known in Australia, the UK, New Zealand, South Africa, and Canada.
Despite the fact that cryptocurrencies have been around for a long time, many players are not very familiar with them. Even today many people think that Bitcoin is the only digital currency, but it's absolutely wrong, there are hundreds. And in crypto plinko, the most popular of them are available for a deposit. For example Ethereum, Litecoin, Dogecoin, Bitcoin Cash, etc.