Before we get into how our new ranking system works I would like to tell you that we think it is the best on the market right now, at the end of this page I hope you will agree with me, and I'll tell you a bit more about the process of research and development of our new ranking system. Let's start!
General Operating Principles
The fundamental difference between our ranking system is that all ratings are based on real data, which is partly provided by the brands themselves, and partly collected by our employees. The values ​​of these ratings do not vary from page to page, as you can find on some other websites. After interviewing our players, we identified the main parameters that are important to most players, regardless of their locale or interests. Next, in order to make the rating as relevant as possible, we decided to add additional parameters, because a player who is looking, for example, for a bitcoin casino with instant payouts, will pay attention specifically to the payout speed in this crypto casino. At the same time, a US player who is looking for somewhere to play in the United States will focus on crypto gambling brands that are most suitable for US players. That is why on different pages you will find different attributes, which in our opinion are most relevant to this particular page.
Here you can also find a list of
countries in which this brand is prohibited
, and to play from which
the player will have to use VPN services
. To do this, click on the country flag that appears at the casino level. For all pages except geo-specific ones, this will be the flag of your country to clearly show you whether this brand is available from your location.
Additionally, in our rating, you can find a complete list of cryptocurrencies that are available in this brand. If you are visiting our website from a mobile phone, to display the full list of casinos, simply click on the cryptocurrency icons.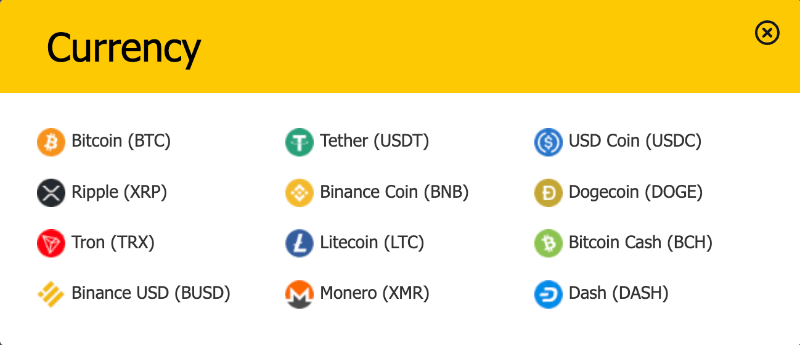 To see a detailed rating, simply click on the stars in the crypto casino profile. Each rating attribute has a description and a unit of measurement. The final rating in stars is formed from the number of points scored within the scale that each attribute has, the scale itself is formed by our specialists from the analysis of the performance of all crypto casino brands on the market.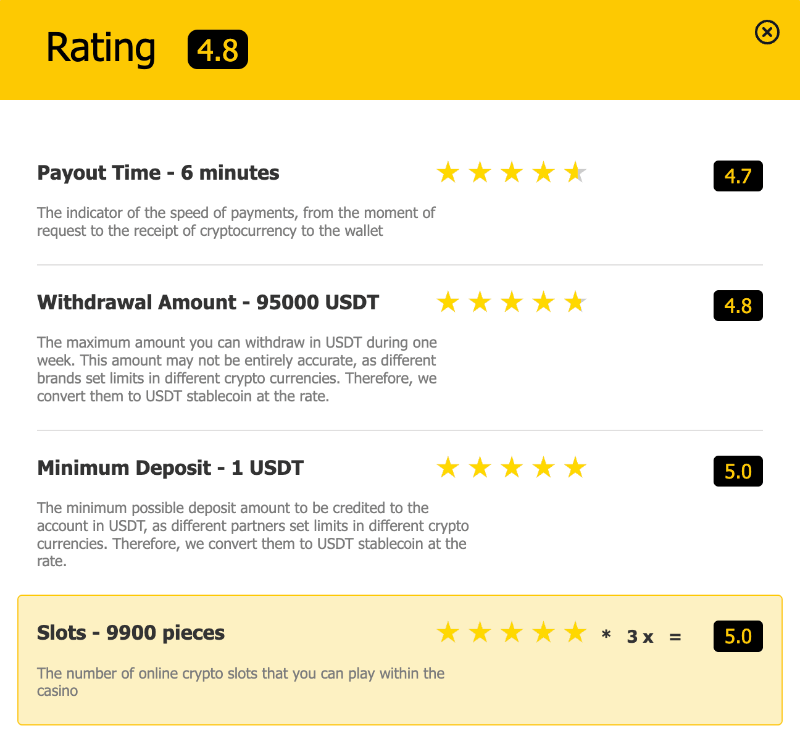 Also, a special feature of our rating was the "main attribute", this is the indicator whose score will be taken into account three times in the final assessment, this was done in order to maximize the value of the "main attribute" for the final rating assessment. Accordingly, on the pages we have 10 attributes, 1 of which is always the "main" one, respectively, is taken into account three times, therefore there will be 12 ratings in total, for example, if we have 9 out of 10 attributes with 5 points, and the "main" will be 3, then mathematics the final rating will be 9 of 5 points each and 3 (since we take the main attribute three times) of 3 points each, total:
(9*5+3*3)/12 = 4.5 points – the final average score of the casino from the example.

In this block, we have described not only the bonus itself that the casino provides, but also where and how you can use it. We have received many requests from our readers who said they see a bonus, such as free spins, but cannot find information on which particular slot they are available.

Also, here in the rating we display the main indicators of the crypto brand. Many of them are involved in the ranking, and some are simply informational, but all of them will definitely be useful for you to choose the right Bitcoin casino for you since they are available in all brands and you can clearly compare brands with each other. Also, some of the brands provide us with an exclusive promo code that will give you an additional bonus. Enjoy!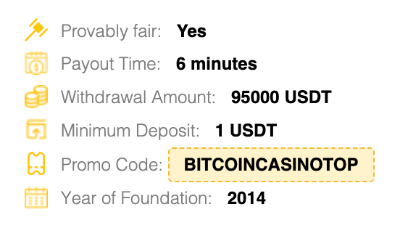 On the right side of the block, brand features are available to you; they are unique to each of them and are designed to make your choice even easier. Here you can find features such as: "Best choice in 2023" or "Web3 depositing technology", respectively, everything from awards to some features that are difficult to compare since not everyone has them, but they are a feature of this brand.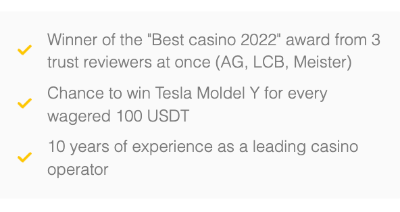 In this block, we display information on how to receive/use a certain bonus, wagering conditions, and additional information that may be useful to a player when interacting with a crypto casino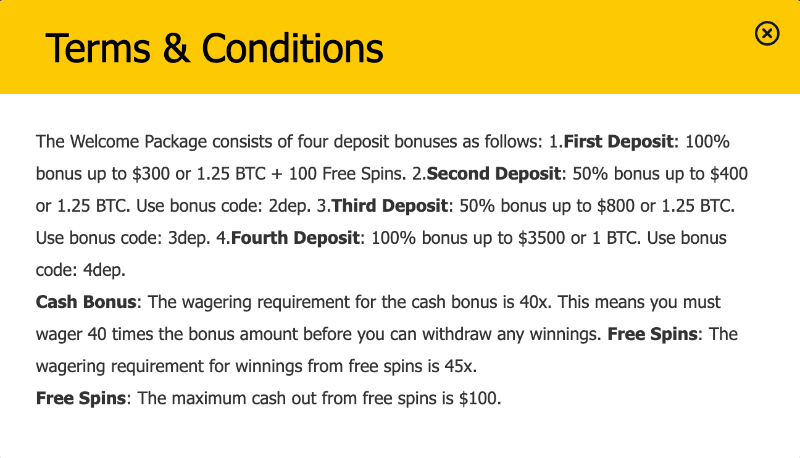 Information Update
All data on absolutely all brands presented in our rating is updated manually with the hands of our employees at least 2 times a month. This ensures you have up-to-date, relevant information. By clicking on the rating, you can always see what it consists of with the real casino indicators and the score for each of these indicators in order to understand what the final average score is made up of for which the Bitcoin casino takes a well-deserved position on this or that page. There is no confusion, everything is as simple and clear as possible.
History of Creation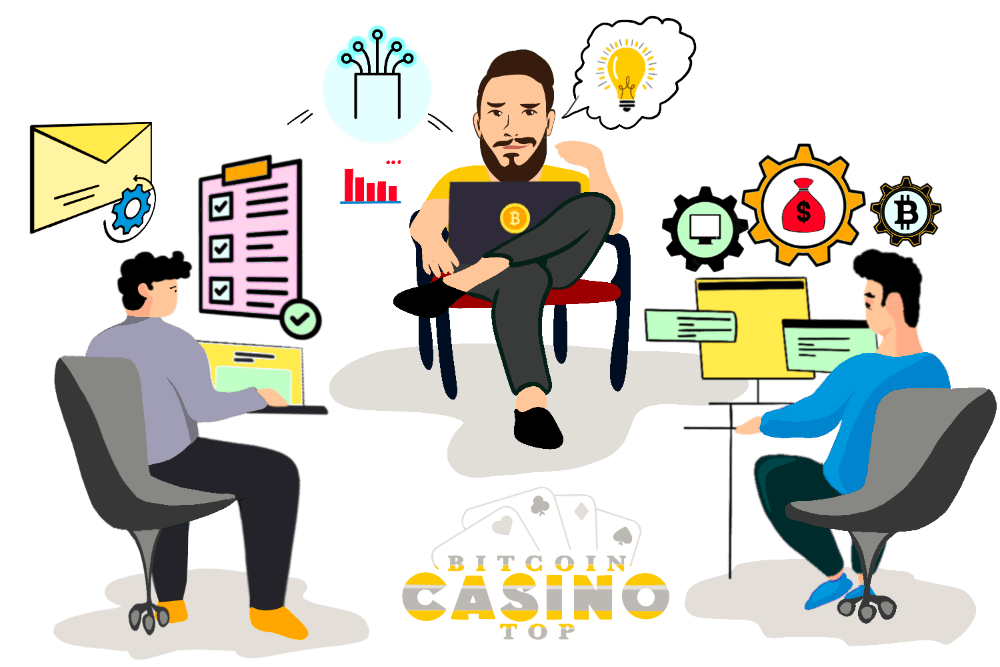 Looking through all the crypto casino reviewers' sites in search of interesting ideas to make our new ranking system as easy as possible for the player to choose the right crypto casino brand, we discovered that absolutely all the solutions on the market have nothing to do with reality. Most of the rating numbers are taken from nothing and vary from page to page and even the owners whom we were asking can't explain how I, as a user, can read and use their ratings. Also, the positions in which casinos are located often do not coincide at all with what is displayed in this rating, accordingly, finding a casino with a rating of 4.6 (92%) is higher than a casino with a rating of 4.7 (94%) is an absolutely ordinary phenomenon, while why this is so, and how to generally understand it – there is no explanation anywhere.
For more than 2 months, we have been conducting research on what our readers would like to see in the rating and which of the attributes most influence their choice. I won't talk about the difficulties of implementing the software part, forming the final design, and other delights of creating a product from scratch, I'll just say that we are very proud of the result and hope that it will be easy and convenient for you to use our new rating system. Well, good luck to everyone in games and in life! 🙂